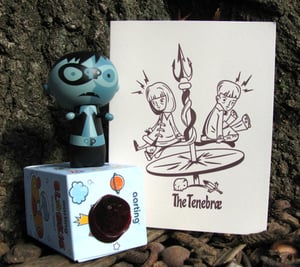 $

45.00
An Aarting Collection Exclusive!
Series 1 designer PO! has created an exclusive release only available through the Aarting Collection. PO! has signed and numbered each box and has authenticated each one by including a wax stamp of his logo. Each purchase also comes with a beautiful signed and numbered hot-pressed artist card.
Included:
PO! Samuel Secret Vamp Blankie figure
Box signed and stamped by PO!
Hot-pressed artist card signed by PO!
Bonus signed illustration
Only 10 figures available!!!
Shipped in an Indestructo Box.
Shipping Options:
USPS First Class (Standard Domestic and International)
--calculated by weight
For 1 to 6 figures
United States = $3 to $5
All other countries = $8 to $16
For 7 to 24 figures
United States = $7 to $12
All other countries = $16 to $20
USPS Priority Mail -- US only
For 1 to 6 figures = $7
For 7-24 figures =$12
Over 25 figures -- shipping is free!
To learn more about PO!, visit www.patriciooliver.com.ar